Registration
---
Registration for the 2021-2022 Season is now open!
You spoke, we listened!
Fundraising can be challenging, especially during a pandemic.
We wanted to make it simpler and fairer for you!
We've incorporated your annual fundraising fee into your registration, making your total overall costs lower than before!
*Team fundraising may be available to help offset tournament and miscellaneous costs.
Please refer to this pie chart for a breakdown of your registration fee!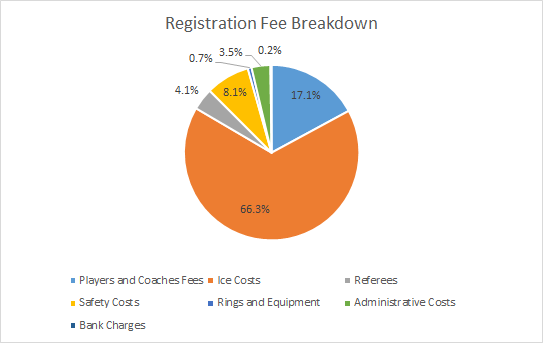 Division and Age Ranges
| | |
| --- | --- |
| Division | Birth Year |
| FUN 1 & FUN 2 - under 8 yrs | 2014 and under |
| FUN 3 - under 10 yrs | 2012-2013 |
| U12- under 12 yrs | 2010-2011 |
| U14- under 14 years | 2008-2009 |
| U16 - under 16 years | 2006 - 2007 |
| U19 - under 19 years | 2003-2005 |
| 18+ - 18 yrs and over | 2002 or earlier |
Division Fees
FUN 1 - 1st yr

$100

FUN 2 - 2nd yr

$200

FUN 2 - 3rd yr

$300

New players to ringette FUN 3+

$325*

FUN 3 - U16 divisions

$625*

U19 & Open

$525*

$100 is non-refundable to cover insurance and administration costs.
*Sudbury Ringette Association purchased new jerseys to be used for the first time in the 2021-2022 season. With this significant investment, we must take into account the wear and tear on these new jerseys over time. For this reason, a $25 yearly usage fee has been included in your registration (FUN 3 and above) for the purposes of replacing jerseys as the need arises.
The Payment Plan will be as follows:
| | |
| --- | --- |
| August 31 | $175 due |
| September 30 | $150 due |
| October 31 | $150 due |
| November 30 | $150 due |
Register and pay in full by August 31st, 2001 to be entered into a draw to win $300 cash value towards your registration. Please note that only the amount paid by the player/player's family is eligible for the draw. If your registration is paid for by sponsorship, that portion will not be eligible for the prize.

Please register and pay in full to finalize your registration, so the Executive can plan for the season.
To set up your account, please follow the instructions below:
Use your email address to create an account.

Click on "My Family Members" and then "Add a Family Member". Add yourself and any players in your family.

Click on "Register", then add your players. You will have to choose a Season, Family Member and Division.

Complete the forms as required.
When registration is complete, you will receive a confirmation email. For more information concerning registration please contact Liisa Levasseur at sudburyringette.registrar@gmail.com
All REGISTRATION FEES are to be E-TRANSFERED to sudburyringette.treasurer@gmail.com please include your PLAYER'S NAME and DIVISION in the reference and use the password "ringette" in your e-transfer.
Please note that those who elected to carry forward their credit from last year must utilize this credit towards their payment. To verify if you have a credit from last year and/or the amount, please contact sudburyringette.treasurer@gmail.com
Deadline to register is September 30, 2021.
Prorated Refund
If you register and choose to withdraw your registration by October 1st 2021 before you get on the ice or if Ringette Ontario cancels the season before the season even begins, you will get a full refund.
If for some reason the season is cancelled mid-season due to COVID-19, below is our prorated refund on the assumption that our season starts on October 1st 2021.
Cancellation Date

Pro-Rated Amount Returned -

$600 Registration Fee

Pro-Rated Amount Returned -

$300 Registration Fee

Pro-Rated Amount Returned -

$200 Registration Fee

Start of Season (up to October 15, 2021)

$500

$200

$100

October 16, 2021 -

November 15, 2021

$400

$160

$80

November 16, 2021-

December 15, 2021

$300

$120

$60

December 16, 2021-

January 15, 2022

$200

$80

$40

January 16, 2022 -

February 15, 2022

$100

$40

$20

After February 16, 2022

$0

$0

$0
Assistance Programs
Sudbury Ringette Association also has the following bursaries and assistance programs
For questions about the prorated refund, assistance programs, e-transfers or available payment plans, please contact Troy McLaughlin at sudburyringette.treasurer@gmail.com